Can I Change Window Styles When I Replace Windows?
authenticwindow_admin
19 Jul, 2012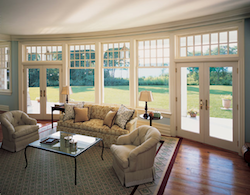 Don't just replace windows, make them better with the features and options that will add value to your home and make living easier. Here are some ideas to turn your window replacement project into a satisfying success.
What types of windows are in your home now? Double hungs are the windows the open when you slide the sash up and down. Casements crank or push open like a door.Gliders open by moving the sash side to side.
Are you satisfied with how easy it is to open and or clean these windows? How about the view? Would you like larger windows to let in more light? Perhaps you have a large, blank wall that would be transformed with the addition of the window. Another common change is adding windows that open to increase your home's ventilation. Marvin's venting picture window might be the perfect choice.
Style and Architecture
Perhaps you live in a modern ranch that's being transformed into an cozy Arts and Crafts bungalow. Or you want to restore a Victorian to its true splendor. Consulting with a window specialist at a high end showroom such as Authentic Window Design puts you in touch with experts who know architecture and windows like the back of their hand. They'll help you choose the right look and style.
Perhaps you don't want to change the type of window, but would an entirely new look. Consider these changes to window details that add up to beautiful décor.
Wood Interiors
Add richness and warmth with genuine wood. The look may be so beautiful you'll be tempted to leave off the window treatments.
Divided Lite Patterns
Nowadays the dividers on window panes represent the architectural lines that used to be created when windows were made of multiple smaller panes of glass joined together by caulk and wood. But divided lite bars are by no means old fashioned. While usually divided lite patterns are grids and straight lines, Marvin windows and doors can make a custom lite pattern to suit any vision, even winding vines.
Window Frame Color
If you're getting new windows, did you know you can change their color without painting. Two excellent materials for the job are fiberglass and aluminum cladding. If you choose a brand like Marvin, you can have these rich, beautiful colors to accent the exterior of your home, without the worry of painting or staining. Marvin's finishes meet the highest industry standards and look like new for decades.
Leave a Reply
You must be logged in to post a comment.