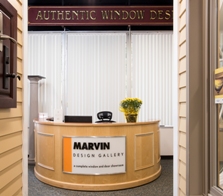 Welcome to Authentic Window Design
After decades as window and door specialists, Authentic Window Design is committed to providing each customer with the best experience possible. Work with us and you'll discover we deliver on that commitment every day. Take a moment to learn more.
The Keys to Success
AWD was established in 1996, offering the right products for impressive and long lasting results and doing the kind of quality work that would make the business grow by word of mouth.
Specializing in Marvin
With so many competing window brands, Authentic Window Design found that Marvin always had the features, quality, and value customers wanted. Marvin consistently outperformed other brands after the job was done, so AWD focused exclusively on Marvin products. Today, AWD is the recognized authority for quality Marvin projects in the Westchester / New York metro area. Learn more about the unbeatable value of Marvin.
Lifetime Installation Warranty
You can choose the best windows and doors, but if the installation isn't done properly, you may encounter problems. All AWD installers are Marvin authorized and train continuously – up to 800 hours/year cumulatively. We're so dedicated to ensuring your windows and doors perform as expected we back our work with a Lifetime Installation Warranty. In addition, we're licensed, insured and EPA Lead-Safe certified.
Built on Buzz
There is only one way to build a business on word of mouth – run your business ethically and do a spectacular job. AWD was built on buzz from happy homeowners. Customers were consistently delighted with their windows and doors, either returning for a second project or referring their friends and family. Our care and attention to detail ensures we regularly enjoy long-term relationships with our customers.
Marvin Design Gallery
In February of 2005, AWD attained the status of Marvin Design Gallery. To earn this prestigious distinction, a company must be an expert in both products and installation. Marvin Design Galleries offer an extraordinary showroom where customers can experience the quality of Marvin products firsthand. It's a place for homeowners, contractors, and builders. See photos of our showroom.