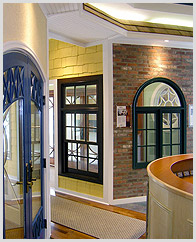 Your Architectural Services – Your Marvin Design Gallery
Think of AWD's Marvin Design Gallery showroom as your source of inspiration and information complete with a full array of Professional Services:
Expert Advice
Answers to your questions are just a phone call away. Rely on our 35 years of experience from true Marvin specialists. Decades of experience, hours of training, and our passion go into every project.
Plans And Takeoffs
We'll pick up your plans and complete take-offs so you can cross that off your list.
Extraordinary Showroom
Actual products shown in architecturally designed walls help you collaborate and create with colleagues and clients. Our showroom is your showroom.
Premium Level Of Service
Enhance the value of your services, keep projects on time, and ensure lasting results by specifying our Marvin Quality Assurance Program on your designs.
Architect Education Series
AIA, AIBD and GBCI trainings offer up-to-the-minute information on subjects important to you.
Installation With Lifetime Warranty
Your reputation accumulates throughout your career. AWD's Lifetime Installation Warranty ensures lasting results that go on to enhance your standing as an architect. If you're a design/build firm, let us do the installation for you or support the success of your installation with our Quality Assurance Program.