About Casement Windows
Casement windows are hinged on one side and swing open like a door. The windows can be opened with a crank or manually pushed open. Casement windows are ideal for bathrooms or kitchens in situations when reaching the upper part of the window is difficult. These windows are a great design option for any room in your home where you want expansive views and plenty of natural sunlight. Casement windows prevent air filtration better than any other type of window that can be opened.
Casement Window Variations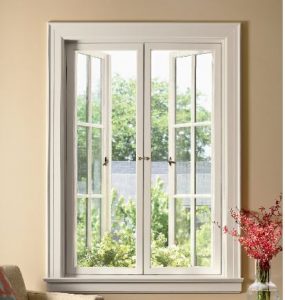 Crank Open. The positioning of the crank at the bottom of the sash makes crank out casement windows easy to open in hard to reach locations. The window can be cranked open the desired amount to funnel airflow into the home.
Push Out. Instead of a crank and gear mechanism, push out casement windows open with the simple turn of a handle and a gentle push. The absence of a crank provides a low profile, sleek appearance on the interior for contemporary designs.
Inswing or Outswing. You can select a casement window that swings outward or into the room. The design that is best for you depends on potential obstacles, like an exterior bush or interior furniture.
French. Comprised of two windows, each swings open from the middle like double doors, with no center post to obstruct views.
Contact an AWD – Authentic Window Design replacement expert to learn more
.
Casement Window Features
Available in widths up to 3.5 feet or heights of 8.5 feet with easy operation at any size
Safety control devices limit how much the window can be opened
Windows can open to the left or right to meet your needs
Certain sizes meet egress requirements
Add a simulated check rail to give the appearance of a double hung window with the functionality of a casement
Insert replacement option fits into your existing window opening with minimal disruption to interior and exterior trim
Choose different interior and exterior colors to match your décor
Hardware and handle design options in the color you want
Dual pane or triple pane glass options