About Double Hung Windows
Considered the most traditional window, double hungs offer versatility, a wide range of sizes and state of the art energy efficiency. Both the top and bottom sashes of the window can be opened for maximum ventilation. Lowering the top sash allows rising warm air to escape while raising the bottom sash allows cooler air into the room. The sizes and grid options available make double hung windows a beautiful choice for contemporary homes as well.
Double Hung Window Variations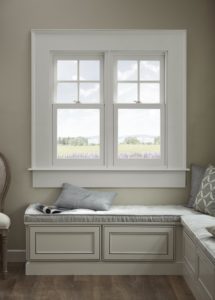 Cottage Windows. These windows have a larger bottom sash and a smaller top sash. Both can be opened and closed like a conventional double hung. Homeowners often choose to have decorative grid patterns on the upper sash.
Single Hung Windows. These windows resemble double hung windows but only the bottom sash can be opened by lifting it upwards.
Oversized. Double hung windows are available in sizes up to 5 feet wide or 10 feet high. Despite the large size, these windows offer easy, smooth operation.
Round Top. For an inspired design to your home, the top sash can be rounded for a stunning Victorian look.
Contact an AWD – Authentic Window Design replacement expert to learn more
.
Double Hung Window Features
The sashes can be tilted inward for easy cleaning
Safety control devices to limit how much the window can be opened
Insert replacement option fits into your existing window opening with minimal disruption to interior and exterior trim
Choose different interior and exterior colors to match your home's décor
Hardware and latch design options in the color you want
Dual pane or triple pane glass options
Choose from half or full screen options