Window Types: Which Windows Are Best For A Wrap-Around Porch?
Super IS Department
22 Jan, 2013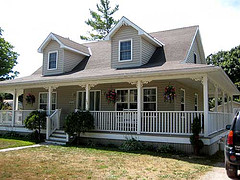 There is no denying that a wrap-around porch is an architectural focal point of a home. All guests and people passing by your home will stop and take notice. There is an all-American sense of sitting on your porch any time of day, in a comfortable chair, enjoying the outdoors. Wrap-around porches provide a warm, welcoming feel and a sense of community.
Considerations for Wrap-Around Porch Windows
Maximize Usable Outdoor Space. The ideal windows would be double hung or glider windows. These styles remain flush with the house and do not swing outward onto the porch. This fact leaves the maximum amount of floor space for chairs, accent tables and other pieces of furniture. In addition, there is no danger of people walking into a window that extends outward. Casements and awning windows that push or crank out would not be ideal. Also, a bay window permanently encroaches on the living space and potentially defeats the inherent benefits of a bay window.
Design Style. No matter which window style you choose, it should match the design and color theme of your home, the porch flooring, porch railings and porch pillars. AWD offers a wide selection of windows in many materials and colors, wood finishes and designs. This will ensure consistency for your home.
Energy Efficiency. The energy efficiency of a window should always be considered, but take note that windows under the overhang of a wrap-around porch will not be exposed to direct sunlight or the elements. Windows on a wrap-around porch will generally be protected and the outside air cooler. This is why a glider or double hung window is best because you can open them to capture that cool, refreshing air. A Hopper window is hinged at the bottom and tilts inward, which provides ventilation and does not take away from the floor space on the porch.
Privacy. As guests gather on the porch, it may inevitably wrap-around past a room that requires privacy. This can be addressed with shades or curtains on the interior. If it is a bathroom window, consider frosted privacy glass.
Size. Again, consider the architectural style of your home. A large floor to ceiling window under a wrap-around porch may not be practical. The view through an expansive window blocked by chairs, tables and railings may not be efficient. Large picture windows would work but consider the view from the interior. If large glass is desired, think about sliding glass doors as an entry way to a living room, dining room or kitchen.
Installation of Wrap-Around Porch Windows
Authentic Window Design, AWD, has a team of installation professionals for all window projects.  Our team of consultants will help you find the perfect windows or doors for your wrap-around porch to make it everything it can be.  Whether it is window replacement or a new construction endeavor, contact AWD.  Our work is back by a Lifetime Installation Warranty.