Window Types: Which Windows Are Best For A Wrap-Around Porch?
authenticwindow_admin
22 Jan, 2013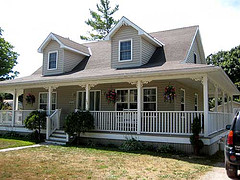 How do you choose the right window type for your porch area? One important consideration is choosing a window type that doesn't require room for swinging open. Windows that slide open include the double hung which opens up and down, and the glider window that slides side-to-side. Or you can choose a window that tilts inward with hinges at the bottom. This is known as a hopper window.
Of all the window types, the double hung is considered the most traditional. However, if your home is contemporary and has a wraparound porch, the glider or hopper may be a more interesting option.
If space is not an issue, you can choose a casement window which swings open with the hinges on the side. The advantage to this window type is that it can create a large opening, if you want to create more of a connection between the interior and outside areas of your home.
The best way to select just the right window is to visit Marvin.com where you'll find their Window Finder. Simply check off the criteria you need to add windows to your wrap-around porch and you'll get a list of the best window types.
Photo Credit: AudeFrance via Flickr
Leave a Reply
You must be logged in to post a comment.