About Sliding Patio Doors
Sliding Glass doors have one or more panels that easily slide open on a track. Also referred to as patio doors or gliding glass doors, they are often used to connect the inside of your home with the recreational outdoor portion like a deck, backyard or patio. The large panels of glass provide plenty of sunlight, wide open views of the outdoors and the screen options deliver an abundance of fresh air. Sliding glass doors save space because the doors do need to swing open and impose on the indoor or outdoor living space.
Sliding Glass Door Variations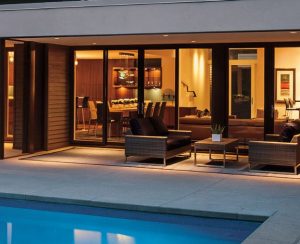 Sliding Glass Patio Door. Maximum views with narrow rails, consisting of up to four panels in which one slides behind the other. Sliding glass doors can also have a pocket design where the panels slide into the wall and are out of sight.
French Sliding Patio Door. These doors function like a sliding patio door but have wider rails for an elegant architectural design. French sliding patio doors are available in two, three or four panel options.
Multi-panel Sliding Glass Doors. Design your dream indoor/outdoor experience with these sliding glass door systems that can be up to 56 feet wide with 6 foot panels. Choose a series of doors that all slide in the same direction or part in the center.
Contact an AWD – Authentic Window Design replacement expert to learn more
.
Sliding Glass Door Features
Choose stacked options in which the panels slide over each other, or the pocket option that has the panels conveniently slide out of sight into the wall
Option to have the panels slide to the left or right
Sliding exterior screens available
Choose different interior and exterior colors to match your home's décor
Keyed-alike option allows one key to be used on multiple locks
Multi-point locking system for security and a tight energy efficient seal
Motorized option to operate panels with the push of a button