Window Types: What Are The Ideal Locations For Glider Windows?
Super IS Department
24 Jan, 2013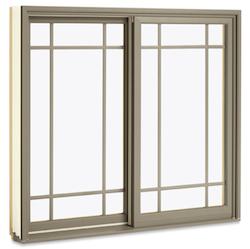 Get to know all the various window types before you choose the right one for your home. The Glider is a space saving window that slides open side to side. Better brands, such as Marvin, offer easy, one-handed operation, thanks to a well engineered aluminum track and thoughtfully designed hardware. Simply push the window to one side to open, and slide it back to close — Marvin's lock automatically engages for safety and total convenience.
The ease of operation makes glider windows ideal for locations over kitchen sinks and counters where you have limited ability to reach the window and lifting is nearly impossible. Since the sashes bi-pass rather than swinging out, they are also ideal for small spaces, such as shower or bath areas, utility rooms and laundry areas.
Besides security, the multipoint locking also gives Marvin's glider an exceptionally high energy efficiency rating for resisting air and water infiltration. This makes the glider an ideal window type for location over couches or in bedrooms where your family will spend long periods of time sitting or sleeping near a window.
One more application that calls for gliders is in outfitting a home for aging in place. Because they are easy to open and close, lock automatically and are even easy to clean and maintain, the glider is the perfect window type for any room in the home where the disabled or elderly live.
Leave a Reply
You must be logged in to post a comment.