Window Types: Casement Windows vs. Awning Windows
Super IS Department
20 Sep, 2012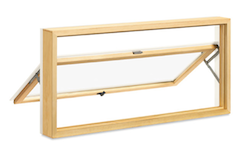 Get up to speed on two common window types, so you can choose the ones that are right for you.
Casement windows are a very popular, and can be one of the more energy efficient window types. Casements crank or push open like a door, with the hinges to one side of the other. The sash (the part of the window that swing out) swings wide open, making the casement an excellent choice if you really want to bring in the breeze. Marvin Windows and Doors makes the Ultimate Casement which features a revolutionary hardware that allows the entire sash to be turned, so the exterior glass surface can be safely cleaned from indoors. Another interesting version of this window is the French casement, which has two sashes that swing outward and do not need a support in the center, leaving the view wide open and unobstructed.
Awning windows tilt out from the bottom and have hinges at the top. They are less common than casements, but have their own advantages and benefits. Because of the way the sash tilts open on awning windows, they can block sound and maintain privacy from neighbors and passersby, even partially when open. Awnings are also ideal where a small amount of ventilation is needed on an ongoing basis; when only left slightly open, they will not let in an unexpected cloud burst.
When closed, both Marvin's casement and awning can look the same, but choosing the right window types for each room of your home can provide you with the functionality you need.
Leave a Reply
You must be logged in to post a comment.