What Shapes And Sizes Are Available For Picture Windows?
Super IS Department
04 Oct, 2012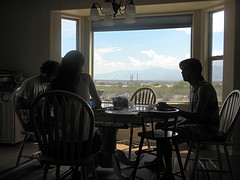 Whether you are adding a picture window or replacing and existing one, with Marvin windows, the possibilities are wide open for creativity. For replacements, for example, you do not have to end up with exactly the same shape and size you currently have. The opening can be changed, enlarged, moved or made smaller. Professional window installers, such as Authentic Window Design, can make these kinds of changes as part of a larger remodeling, or as part of a simpler window replacement project.
So what shapes and sizes are available for picture windows? With Marvin, the answer is not a mere list of preexisting sizes or specific shapes, the answer is just YES!  Whatever you can dream of, Marvin windows can create. Marvin windows and doors are made to order to the specifications you and your local Marvin retailer create together. Picture windows can be square or rectangular — or a triangle, octagon, trapezoid, etc. They can even be round or half round.
To expand the possibilities, consider a combination of windows. Start with a square or rectangular picture unit, flanked by double hung or casement windows on either side to add ventilation. A transom across the top can increase daylight and expand the view. Or choose Marvin's exclusive venting picture window, where the entire sash bumps out for ventilation, with a unique, patented hidden screen to keep out insects.
To get started on your project, visit Authentic Window Design's Marvin Design Gallery, where you can see examples on display. You'll also get a feel for the many details and options you can add to get truly customized results for you picture windows.
Photo Credit: Double Bean via Flickr
Leave a Reply
You must be logged in to post a comment.