New Home Windows: What Are The Newest Trending Styles?
Super IS Department
13 Sep, 2012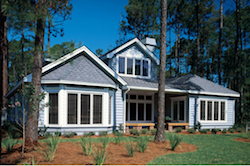 Shopping for new home windows? Get to know the latest trends from an industry leading window company, Marvin Windows and Doors.
Ultimate Glider Window
Designed to be easy to live with, this exciting new glider window has a number of innovative features. The design offers clean lines that suit the trend towards more contemporary styling. An automatic locking system engages when windows are closed, ensuring your home's security and creating a snug seal – one of several reasons the Ultimate Glider has outstanding energy efficiency ratings. Because the two panes in a glider window bypass each other, they won't protrude when open, making them ideal for use around decks, patios and walkways. And to ensure the views are always clear, the Ultimate Glider's sash can be removed without tools for easy, thorough cleaning.
Retractable Screen
Continuing a trend on improving and clearing the view, the Ultimate Casement and Awning offer a retractable screen option. The screen glides into a small, discreet compartment to one side, and is ready to be easily pulled across when the window is open, to keep unwanted insect visitors at bay.
Ultimate French Cranking Casement Window
Team up Marvin's expert engineering with their carefully thought out design for new home windows that architects and lovers of architecture will adore. The Ultimate French Cranking Casement won't compromise beauty or energy efficient performance. The beauty of a French casement window is that when it's open, there is nothing to divide the view, simply crank the windows open and enjoy an unobstructed view. And with Marvin's engineering prowess, they'll keep your home snug and comfortable when closed.
Leave a Reply
You must be logged in to post a comment.