Marvin Sliding Patio Doors To The Rescue On This Kitchen Remodel!
Super IS Department
25 Sep, 2012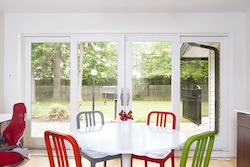 Lesson learned from this home makeover: Why invest in quality materials and design for any room of your home when the windows, or in this case, the patio doors don't make the grade?
Founded and editor of the Design Milk blog, Jamie Derringer, has chronicled the renovation and life in a ranch style home. As part of the project, Jamie decided to upgrade the substandard patio door in her sophisticated, newly redone kitchen.
The old vinyl patio door in the home when Jamie bought the house was unsightly, including the interior and exterior trim, and one of the doors was very difficult  to slide open. In addition, they were not very energy efficient. With the help of their Marvin dealer, it was discovered that the original door had not been properly installed. Click here to see the door, before replacement. It may remind you of a door in your home that needs some help.
A new Marvin Clad Ultimate Sliding French door with four panels was designed, with two center panels that slide, while the other two panels remain stationary. Flat casings, also made by Marvin, finished the outside beautifully. The new door fits perfectly into the opening, because it's made to order, and enhances the room thanks to its more handsome, substantial profile. And it's beautifully topped off with architectural hardware, one of many fine details available to upgrade Marvin patio doors to fit perfectly into any decor. Click here to see the kitchen after the replacement.
Photo Credit: Kate Glicksberg
Leave a Reply
You must be logged in to post a comment.