How To Choose The Best Patio Door For Your Patio
Super IS Department
28 Jul, 2012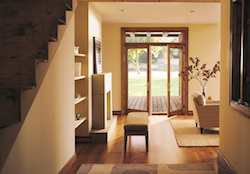 Here are some easy tips for finding the right patio door for your outdoor living area. Sliding versus Swinging
Do you have room for swinging doors? Then Marvin's French doors, offered in inswing and outswing styles can help you make a grand entrance (or exit) to your patio area. If space is an issue, consider Marvin's sliding doors. Choose from sliding French doors with more traditional styling, or Sliding Patio Doors that offer sleek, clean lines.
Patio Doors versus French Doors
Many people think French doors are double doors, however French doors styling influences the width of the door frames. Considered more traditional, French doors have wider framing, while other patio door models has a narrower frame profile.
Marvin's Unique Patio Doors
Besides sliding and swinging French and patio doors, Marvin also offers their unique Lift and Slide Door that can disappear to reveal the outdoors through a wide, unobstructed opening. Marvin's bifold doors can add interest and maximize the drama of your design. Or if you a round top door is in your dreams, Marvin's arch top French doors can be made to fit the right radius or curve to fill the bill perfectly.
How Many Panels?
Most commonly, sliding doors have two panels, and more often than not, only one panel moves while the other remains fixed. However, you can choose from many configurations with multiple panels that open or remain fixed, depending on the traffic patterns of your patio entrance.
Don't Forget the Details
Finishing your doors with the right details give them a personal touch. Marvin offers a wide variety of hardware to perfectly accent your doors. Choose the right divided lite patterns leave the glass free of dividers to open up the view. Or choose from over 15 types of textured and privacy glass options to take you from historic to bold and modern, no matter what style you need.
Leave a Reply
You must be logged in to post a comment.