Installing French Doors In Your Home: Why You Should Choose This Option
Super IS Department
08 Jan, 2013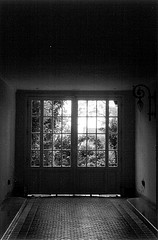 Whether you want to replace a window, an old sliding patio door, or add a new set of doors, installing French Doors is an exceptional idea. They add an attractive, elegant, stylish element while serving the purpose as any other door can.
Adding French doors can raise the architectural sense of your home, which in turn will raise its overall value. Most commonly, French doors are installed in pairs but according to the window specialists at Marvin Windows and Doors, a company that's been in the business for over 100 years, you can have a single French door. They say the "French" is really about the styling of the door – the traditional look of wide stiles and rails, the parts of the door that frame the panes of glass. The generous wood is architecturally correct.
As for details, the glass can have beveled edges, frosting or a texture for privacy, and of course grilles between the glass, or dividers that sit on top of the glass.
Beside the detailing and architectural feel that adds beauty to your home, French Doors are the perfect way to keep out noise without spoiling a view or blocking sunlight. The generous glass area can cut off the visual connection between adjoining areas.
High quality French doors can add security, with multipoint locking. And brands such as Marvin are also very energy efficient – even carrying the energy star label, so you don't have to compromise energy efficiency for looks.
Photo Credit: meganmawdesley via Flickr
Leave a Reply
You must be logged in to post a comment.