3 Reasons You Should Install French Doors On Your Back Patio!
Super IS Department
06 Nov, 2012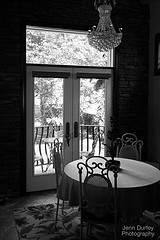 Whether you want to replace a sliding patio door, a solid door or even replace windows with a door, there are advantages when you install French doors in your home.
Modern patio doors can have very narrow frames, plain glass, and relatively ordinary finish details such as utilitarian hardware. French doors add an elegance to any area of your home with their divider grilles, stylish architectural hardware and the dramatic opening that's created when they are opened wide. They can also be made with unique textured and patterned glass, for added grace and privacy.
French doors provide more light that a solid door, but with Marvin's energy efficient options and quality engineering, they lock and seal securely to keep your home cozy, comfortable and secure. The added glass area of French doors over smaller windows can also let you keep an eye on children at play or let you take in a beautiful view or the changing light as the sun makes its way through the day.
Sliding French doors have the appearance of French doors but give you modern patio door convenience without compromising the architectural character of your home. Sliding French doors do not require the swing room of a hinged door, and also have impressive energy efficient qualities.
Photo Credit: Jenn Durfey via Flickr
Leave a Reply
You must be logged in to post a comment.