Choosing Windows: What Style Is Right For Me?
Super IS Department
09 Aug, 2012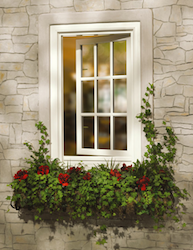 Windows are a certainly functional, and when designed right, they can have a major impact on the beauty, curb appeal, and wow factor of your home, too. Whether you are choosing windows for remodeling, adding an extension or just looking to replace your windows, working with a company that specializes in window and door design will help you get the style that's right for you.
Windows have evolved with every era of architecture and even today, window companies put care and thought into the traditions of window design. For example, the term profile refers to the thickness and shape of a window's frame and other components. Like different molding used throughout your house, the thickness, shape and detailing of a window's profile will determine if it's considered contemporary or traditional. A ratio of larger glass area with a narrow frame is an example of a more modern profile.
Grilles that divide the glass into patterns or lites can also make a statement of style. For example, Prairie, Mission or Art & Crafts homes often have distinctive grilles that set them apart from colonial or Victorian homes. Modern windows are often designed without dividers or grilles.
Unique window shapes are also available from companies such as Marvin Windows and Doors, a company that has specialized in making windows to order for over 100 years. They offer round tops, octagonal and polygon shapes, and even circular windows that can be opened and closed.
How a window opens or closes can express a particular style as well. For example, windows with two parts that swing inward or outward like a pair of French doors are commonly seen in Europe and give any home a romantic feel. Casement windows that have a single sash that swings open like a door are sometimes considered more modern.
Regardless of your home's existing architecture and your own sense of style, working with an architect and a qualified window professional when choosing windows will give you results you'll love, inside and out!
Leave a Reply
You must be logged in to post a comment.