Window Types: Bow Windows vs. Bay Windows
Super IS Department
23 Aug, 2012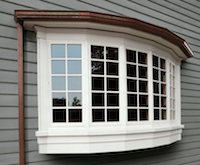 Both bow and bay windows are excellent window types to add interest and significantly change the sense of space and light in a room without moving entire walls. Their impact is like a mini remodel that can meet your budget more easily that major renovations. So what is the difference between bow and bay windows?
Both bay and bow windows have a seat board and head board to enclose the top and bottom of the space they create. These window types can become an airy extension or a cozy nook, the perfect spot to curl up with a book.
Bay windows are traditionally made with three window units. The center unit is often larger, and the side units slightly smaller, giving the bay an angled shape. The angles at which the windows meet normally range from 30 degrees to 90 degrees. It's not unusual for homeowners to choose windows that open and close for the side units, while leaving the center as a picture window. For this reason, bay windows can provide expanded views. However, with Marvin, there are many more options to choose from, and talking to the experts at AWD can help guide your decisions.
Bow Windows can be made up of any number of casement or double hung windows, joined together to form a gently curving unit. The effect can be architecturally dramatic, and the ability of the windows to open means you can enjoy ventilation along with the expanded views.
Leave a Reply
You must be logged in to post a comment.