Low Maintenance Options For Quality Windows
Super IS Department
17 Jul, 2012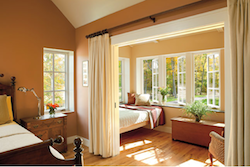 When it's time to replace your windows, besides upgrading their energy efficiency and improving your home value, you can also build in some features that will help cut down on, or virtually eliminate the need for maintenance. Quality windows can offer the following features:
Aluminum Cladding
Marvin windows and doors offer an advanced aluminum cladding that sets the standard. Made to look just like a finely crafted, painted wood window and available in 19 architecturally creative colors, Marvin's clad exteriors are super durable and dent resistant. Their finish meets the industry's highest standard for UV resistance – meaning you'll never have to paint, and your clad windows will stay looking new for decades.
Fiberglass Windows
Ask anyone with a fiberglass boat or a Corvette automobile how well this material withstands the extremes of wind and weather. Today's fiberglass windows look exactly like a well made wood window. If you get a quality material, such as Ultrex fiberglass, it's as strong as steel and won't warp, rot bend. In addition, better fiberglass windows will include a finish that meets the American Architectural Manufacturers Association's highest standards for fade and scratch resistance. This durable finishes ensure a lifetime of beauty, even for dark-colored windows – all without scraping, sanding or repainting.
Easy Wash Modes
One way to save time and avoid ladders and climbing is choosing windows with built-in easy cleaning features. The Ultimate Casement window from Marvin actually turns on its revolutionary hardware, so you can clean the outside from indoors. If you're interested in double hung windows, be sure to get the tilt-in wash feature, that lets you easily get to exterior glass, without even removing the screens.
Everwood
If you like the look of warm wooden window interiors for your home, but don't want to have to refinish them, Infinity Windows offer an exterior option called Everwood. It looks, paints and stains just like genuine wood, but because it's engineered to last, it resists fading, mildew and rot.
Leave a Reply
You must be logged in to post a comment.