How To Choose An Entry Door That Compliments Your Home!
Super IS Department
01 Dec, 2012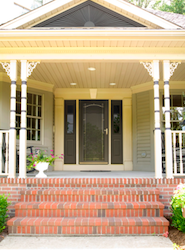 A new entry door is an excellent way to give your home a facelift while undertaking a small, easily completed project. There is a seemingly limitless number of brands and styles. Here are some tips to picking a door that compliments your home.
Start by looking at your home from several angles, across the street, and down the block. Even do a drive-by to envision what others see when they look at your home.
Decide what style your home is: Colonial, traditional, transitional or modern, Arts and Crafts, beach cottage or Victorian. Bold contemporary, or euro-modern.
Do you want side lites or a transom – these are glass areas on either side and above the door – they can be used on any style home from traditional to modern.
Next, think about color. Design experts recommend choosing an entry door color that contrasts with the siding of your home. For example, if your home is white, the ultimate contrast is a black door, however, any dark color can provide an attractive contrast: burgundy, red, dark blue, forest green or even a dark stained wood for example.
Also consider adding hardware that contrasts. After all, hardware is an important aesthetic accent, and a contrasting color will set it apart from the rest of the door.
Finally, narrow down the details. Do you want glass? If so, options include stained glass, clear glass with a grille pattern, or art glass with an embossed pattern for privacy. Raised panels and carving care also express your style.
Leave a Reply
You must be logged in to post a comment.