How Installing An Entry Door Can Revitalize Your Home's Beauty
Super IS Department
10 Jan, 2013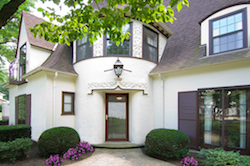 The front door of your home is not only a point of entry where guests are welcomed, but it serves as the focal point to passersby. Keeping this in mind, installing an entry door to be the new "center of attention" can breathe new life into the overall beauty of your entire home.
If your home was part of a development, chances are the builder chose a door that did the job with minimal cost, minimal features and minimal details. It has served its purpose, but is bland and unexciting like a plain white shirt.
Or if you have an older home, perhaps your door's finish has deteriorated or faded unevenly, leaving the bottom bleached and parched.
Imagine changing the color and or adding details. If you're having difficulty visualizing this, print out a photo of your home and carefully cut away the door with a pair of nail scissors. Using paint chips from your local home center or paint store, put on a fashion show by slipping the various chips in place of the door. No guess work required.
In addition to a color change, you can add details, such as glass, raised or recessed panels, decorative and architectural hardware, carving or details.
What surrounds your door can enhance the beauty further. Consider wide casings (moldings), side lites (windows on either side of the door) or a transom window over the door.
Designers advise making bold choices ensure that installing an entry door truly revitalizes the beauty of your home.
Leave a Reply
You must be logged in to post a comment.