Composite Windows Vs. Vinyl Windows: What's The Difference?
Super IS Department
23 Oct, 2012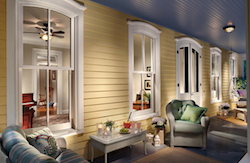 At one time, vinyl was the leading edge material, but like all technology, the world has moved on. Today, composite windows lead the way in advantages over vinyl. One brand in particular is out ahead of the pack with the first-to-market fiberglass window material that now has 20 years of proven performance in the field: Ultrex fiberglass, available only in Integrity from Marvin and Infinity Replacement Windows.
Ultrex is a different type of fiberglass, made through a process called pultrusion that gives it unmatched strength and stability.  Ultrex is 8x stronger than vinyl. Besides outlasting vinyl, this strength allows for narrower window frames, giving you more glass area and better views.
When exposed to heat, Ultrex expands and contracts 9x less than vinyl. How does this help? The greater the expansion and contraction of a material, the more susceptible to failures such as distortion, streaking, cracking and warping. Because it is more resistant to thermal expansion, Ultrex has fewer problems and requires virtually no maintenance.
What's more, the tough acrylic finish that protects Ultrex exceeds the highest standards for resistance to chalking and fading, allowing Integrity and Infinity windows to be made a range of beautiful colors, even dark ones that last for decades.
After looking at the facts, you can conclude that Ultrex outperforms vinyl in virtually every way. That's why at AWD, we recommend Integrity from Marvin and Infinity Replacement windows as the most worry-free, maintenance-free, and hassle-free products on the market.
Leave a Reply
You must be logged in to post a comment.