Choosing Windows: How To Tell If A Window Is Energy Efficient
Super IS Department
14 Aug, 2012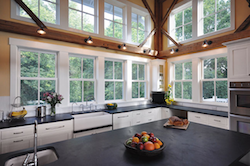 When you are choosing windows, knowing if a window or door is energy efficient is not a simple matter. Windows and doors are made up of frame materials glass, and vary greatly in size, operation, design and shape. All of these factors will affect a door or window's energy efficiency.
To help you determine if windows and doors you're considering are truly energy efficient, and organization called the National Fenestration Rating Council (NFRC) rates windows and doors. This independent, non-profit group helps consumers, builders and architects navigate the many factors that go into giving windows and doors their overall energy efficient ratings. Their labeling system provides a fair, accurate, and reliable means to compare brands.
The NFRC label tells you both how windows will help keep your home cool in summer as well as how they will affect the warmth inside in the winter. They rate how well a window or door keeps out wind, and how much they will resist condensation, that's the moisture that builds up on the inside of windows in certain atmospheric conditions.
In 2005, the NFRC label was redesigned to give even more information, as demand from consumers and those in the building community for more information has grown.
When you are choosing windows and doors, be armed with questions for the retailer pertaining to the following ratings covered on the NFRC label:
U-Factor– the window or door's ability to prevent heat from escaping
Solar Heat Gain Coefficient– the window or door's ability to block heat from the outdoors
Visible Transmittance– how much light is allowed through the glass
Two other ratings that are not mandatory on the label, but will be shown by better window brands include:
Air Leakage – how much air can pass though the closed window or door
Condensation Resistance – the potential for moisture to collect on window and door surfaces.

Leave a Reply
You must be logged in to post a comment.