5 Considerations To Make For New Home Windows
Super IS Department
07 Aug, 2012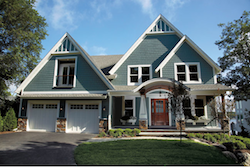 Will your windows be pulled from a warehouse or made specifically for your home?
Who wants a one-size-fits-all solution? When it comes to windows, some manufacturers make the most popular sizes and styles and put them in a warehouse. When you order, they pick the closest model to the one you want. Other window companies make each order to exacting measurements and to include just the features, options, colors you choose, ensuring your window replacement solution is just right for you.
What sort of upkeep will your new home windows require?
If you appreciate the beauty and richness of natural woods, many window manufacturers offer multiple wood types to enhance the beauty of your home's interior or exterior. Perhaps, though, the upkeep of wood windows is something you'd prefer to do without. Alternatives such as fiberglass offer remarkable beauty with virtually no maintenance. For the interior, there's even an option that gives the beauty of wood, but never needs painting or staining again. This option, known as Everwood, is available on Infinity from Marvin replacement windows.
Are your windows sold with installation?
If you are working with a contractor, chances are they will install the windows you choose. But there are advantages of finding windows that are sold with the installation included. Retailers who do their own installing are factory trained to work with the specific brands they sell. Because they specialize in window installations, they will have up-to-the-minute expertise in the best techniques for installing your new windows.
What materials are used and how long will they last?
Not all window materials are alike. For example, vinyl, which was a popular material for windows in the past, is loosing favor with window experts. It's now known that vinyl windows can warp and change shape in the extremes of outdoor heat, making them lose efficiency and have seal failures that lead to foggy condensation between the panes of glass.
Wood is still one of the best insulating materials to use for windows and continues to be popular, especially as manufacturers now offer responsibly harvested wood species.
Fiberglass, the newest and most exciting material, has been around for decades and is gaining in popularity. It withstands outdoor extremes the best of all, and looks beautiful with relatively little maintenance.
How "green" are your new windows?
Nowadays, window companies understand that making windows is a process needs to respect the environment while resulting in the best possible products, too. Does the brand you're considering come from a company that has earth friendly manufacturing practices? Do they recycle their waste materials in a responsible way? The longevity of windows is also a factor. The longer the windows are made to last, the fewer of them will wind up in our nation's waster streams. Vinyl manufacturing involves some of the harshest impacts on the environment, and can even present indoor air quality matters within your home. And having the shortest lifespan, vinyl may not represent the greenest of choices for new windows.
Leave a Reply
You must be logged in to post a comment.