About Scenic Doors
Connect your inside space and the great outdoors with dramatic scenic doors that provide panoramic views and genuine indoor/outdoor living. These luxurious doors are available in sliding and folding designs in widths up to 55 feet and heights up to 10 feet. Despite their stunning size, these doors are durable, energy efficient and easy to operate in addition to being architecturally beautiful. AWD Authentic Window Design can help you enjoy the view from your home like never before.
Scenic Door Variations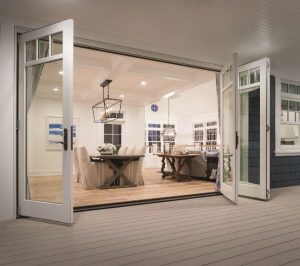 Bi-Fold Doors. The term bi-fold may suggest two doors, but that is not the case with these expansive doors. A series of doors open and close like an accordion with heights up to 10 feet and widths up to 55 feet. For everyday use, choose a swinging access door that blends in with the others and opens independently.
Lift and Slide Doors. Special hardware allows these large door panels to gently lift off their tracks gently glide open or closed. Choose pocket doors that conceal within the wall when opened or the stacked design that positions panels in a group in plain sight. Available in stunning heights of 12 feet and up to 47 feet wide.
Contact an AWD – Authentic Window Design replacement expert to learn more
.
Scenic Door Features
Choose from dozens of operating configurations
Panel heights over 10 feet exceed those of multi-panel patio doors
Hardware for a sleek contemporary look
Dozens of color options
Hardware and latch design options in the color you want
Easy to open and close at any size
Flush sill design options