Authentic Window Design Presents Marvin's Window and Door Continuing Education Programs to Architects in Manhattan
Super IS Department
07 Apr, 2014
Authentic Window Design, a Marvin Design Gallery, partnered with Trespa International B.V. on Thursday, March 27th and held an Architect Appreciation Evening at the Trespa Design Centre in SoHo.
35 Architects attended the event which included two presentations; one by Trespa International B.V. entitled "Understanding HPL and the Benefits of Rainscreen Applications", and another presentation by Marvin Windows and Doors and Authentic Window Design entitled "Windows and Environmental Goals". The Architects earned 2 H/S/W credits and enjoyed cocktails and a light buffet in a contemporary inspired showroom. The Architects in attendance were engaged in both presentations, and benefitted from the networking that followed.
The Trespa Design Showroom was a comfortable setting bringing Architects together in a theatre style and viewing the presentation on two oversized flat screen monitors. Architects were able to see the numerous choices of façade panels on display throughout the Trespa Design Showroom, and participants could become familiar with Marvin Window and Door products as displays were available including a preview of Marvin's next generation Ultimate Double Hung window, and a Marvin Casement incorporating the exclusive patented integrated shade system.
 The Architects in attendance are looking forward to Authentic Window Design and Marvin Windows and Doors next educational event where they can explore new products; learn about environmental construction applications, and earn CE credits through AIA sanctioned presentations.
Trespa, recognized internationally as the premier developer of high quality panels for exterior cladding, decorative facades and interior surfaces has it's North America headquarters in the SoHo neighborhood of New York city.
Marvin Windows and Doors is a leading manufacturer of made-to-order wood and clad wood windows and doors, handcrafted in America, and Integrity Windows and Doors, made with Ultrex, a pultruded fiberglass. Integrity provides both a wood interior and Ultrex exterior window and an all Ultrex window and door. Ultrex pultruded fiberglass is a highly durable, state-of-the-art material that significantly outlasts and out-performs vinyl and vinyl/wood composites.
Authentic Window Design, a Marvin Design Gallery, provides a full range of Marvin and Integrity Windows and Doors on display in their showroom located in White Plains, New York and offers sales, installation and service to the commercial and residential markets servicing New York City and the tri-state area.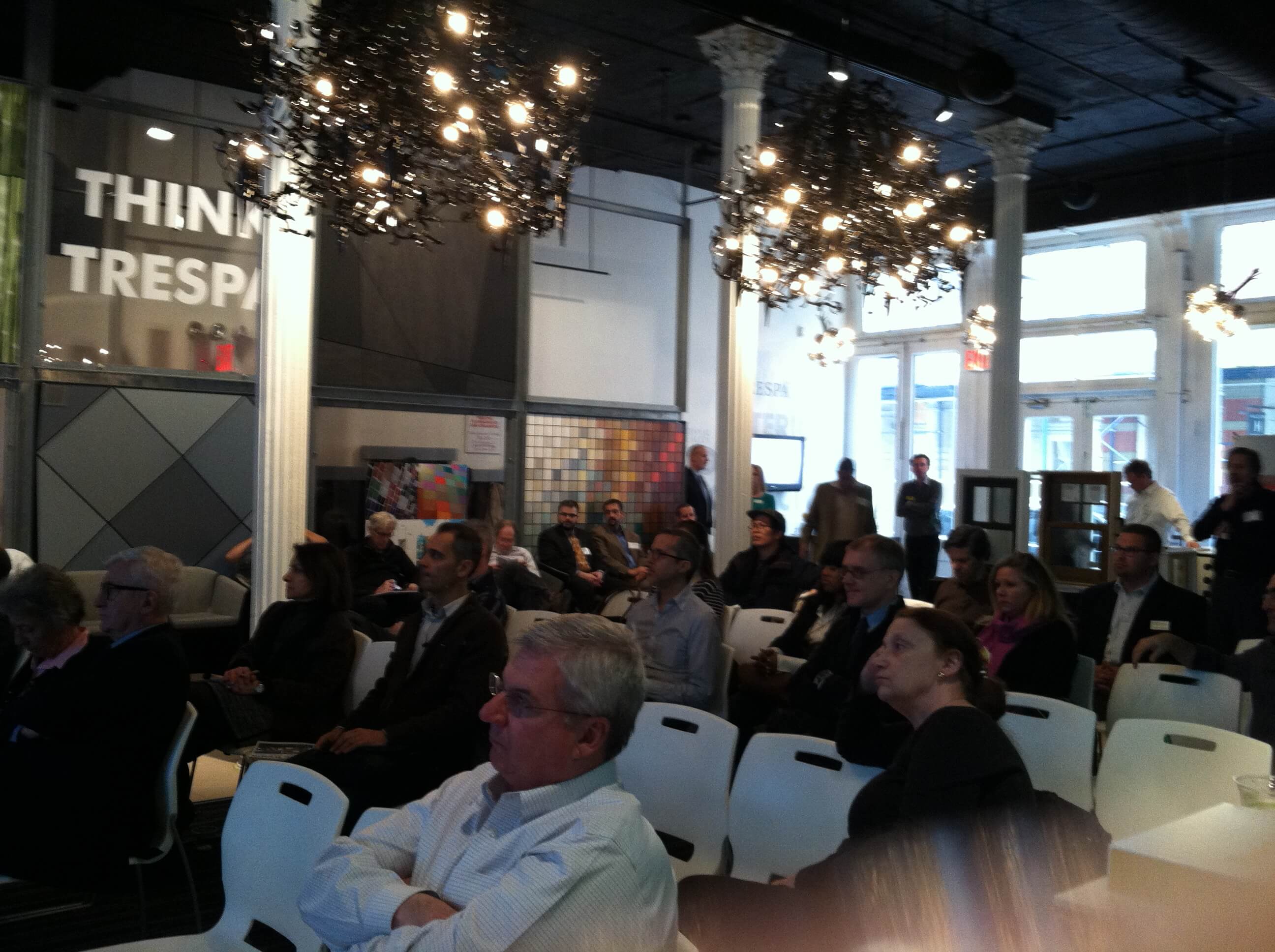 Architects are attentive listening to presnetations from AWD and Trespa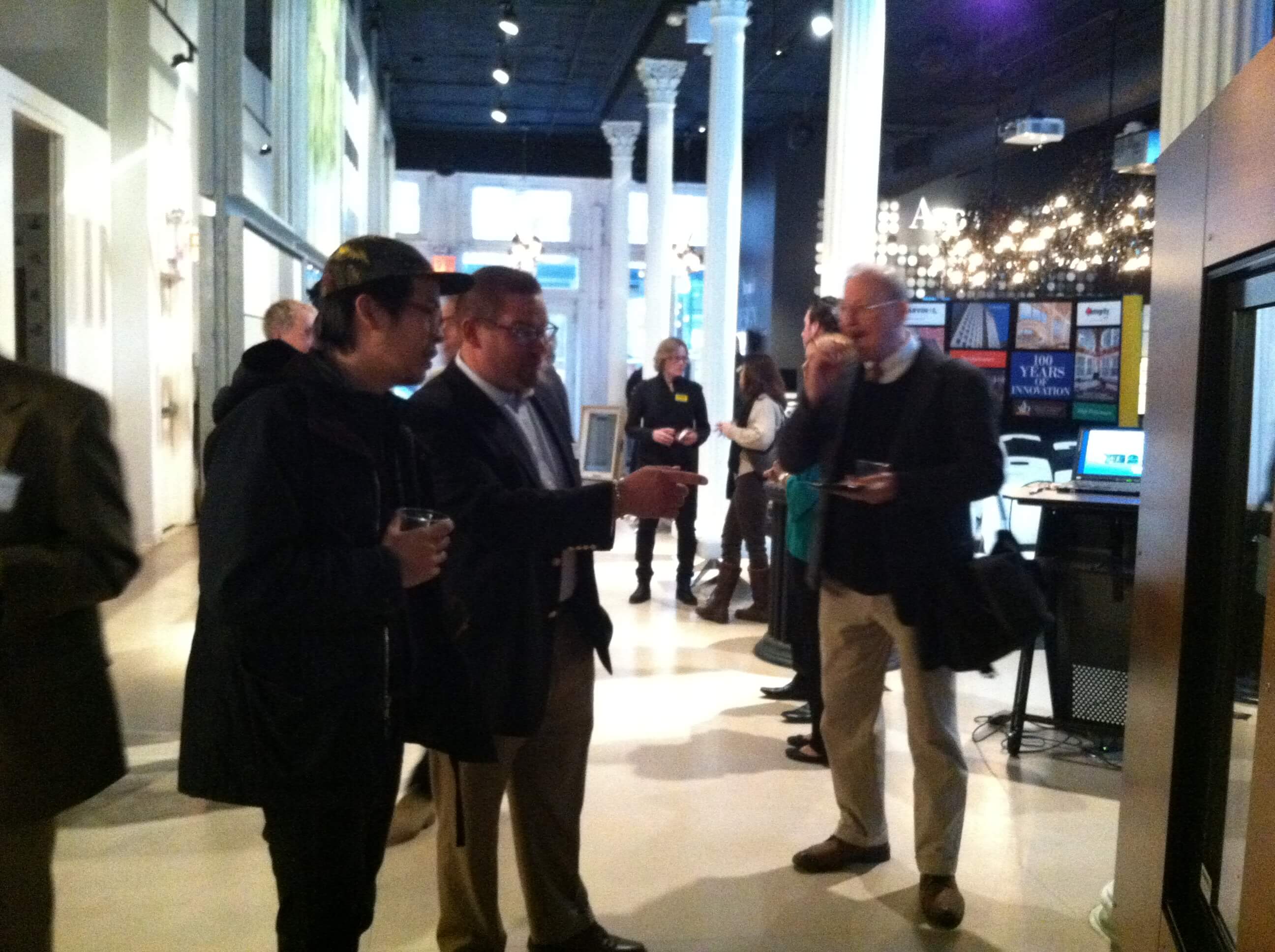 Displays with Marvin and Trespa products drew interest from the crowd.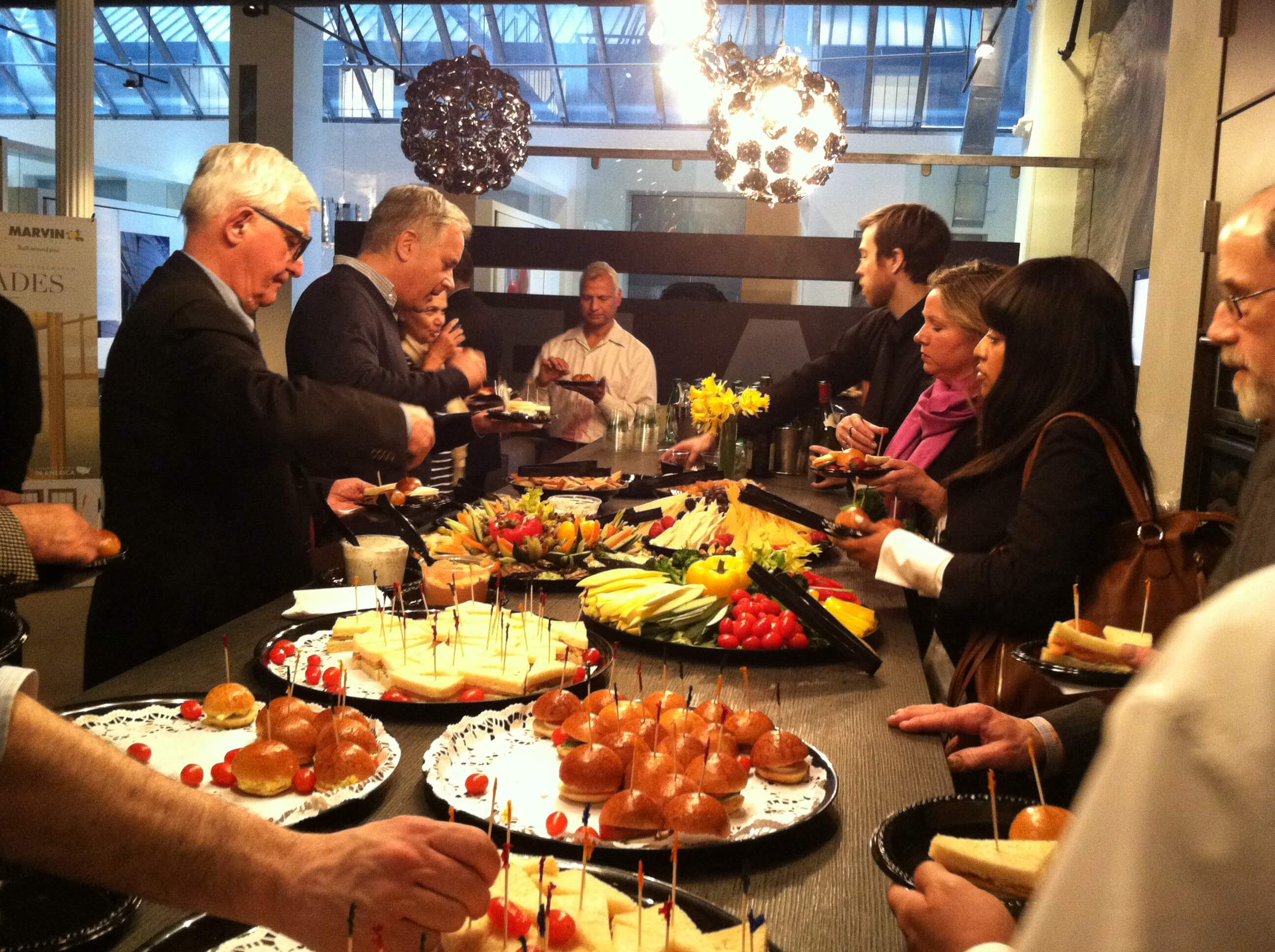 Sandwiches kicked off the networking portion of the event.