Guide to Replacing Historic Windows
Super IS Department
10 Feb, 2021
Comments Off

on Guide to Replacing Historic Windows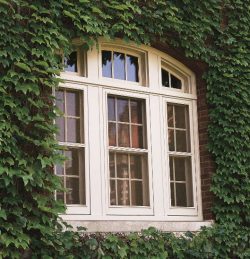 Owning a historic home is a very rewarding type of ownership. The beauty of our nation's past is captured in the architecture and elements of the building. Caring for and maintaining the historic integrity of the home is also a large part of ownership. The homes exterior is one of the most telling signs of a historic landmark, and its windows are critical to the look and feel. Many historic towns and districts have laws governing historic window replacement. Whether that comes down to the materials that a window can be (no composite or vinyl materials allowed) or the actual aesthetics of the windows, restoring or replacing historic windows can oftentimes seem like a daunting task.
Historic Window Restoration vs. Replacement
One of the first decisions a homeowner will have to make is deciding whether to restore the existing historic windows or replace them. There are many window brands in the market that offer historic replacement options that will satisfy the townships ordinances, but as with everything else, some brands are better than others. AWD – Authentic Window Design is a proven leader in historic window replacement, providing homeowners the historic look and feel they need, combined with modern technology and energy efficiency.
When deciding – restore or replace – ask yourself these few questions.
Are your current windows drafty and therefore affecting your energy bill? Performance is critical when deciding to restore or replace. Replacement increases the likelihood that performance will be optimized.
Is the labor and maintenance on your old windows an issue? Is it a struggle to clean the old windows, open or close them, or does the original windows have outdated parts that require more labor? If your answer to these questions is yes, then replacement is probably a better option.
Is the aesthetics of the windows the issue? Peeling paint, broken panes, gaps… these are all factors that take away from the beauty of your home. Replacement windows will give your home a beautiful lift and will do wonders for the comfort and feel.
Authentic Window Design offers many historic window options that will mimic the look of your old windows with modern technologies like double or triple pane glass (which help with energy efficiency), auto locking features and high-performance guarantees.
Historic Window Replacement Cost vs. Repair Cost
Repairing historic windows is more cost efficient and environmentally friendly than replacing historic windows. However, repairing your old windows will only Band-Aid problems that will still need to be addressed in the future. Historic preservation reduces our carbon footprint and weatherization and air sealing will help your energy efficiency. When you replace your historic windows you will be paying more for the windows and service, however, you will see a difference immediately. A difference in performance, in comfort and in aesthetics.
Both options will provide you with a historically accurate window, restoration of course will offer you the most historically accurate solution since it is the historic window. However, replacement options today are so accurate, it really comes down to the homeowners' preference.
Repairing Old and Historic Windows
There are many benefits to restoring and repairing your old windows, from wood durability to the homes authenticity to reducing the carbon footprint. Old wood windows are typically denser, durable and more dimensionally stable because of the old-growth wood that was used. New wood windows will last but the wood is not as durable as what was used prior to the 1940's. Historic windows were also specifically made to fit their opening and were custom installed. AWD supplies and installs custom windows to meet historic requirements. Each difference in the fenestration opening adds to the character and authenticity of the historic home.
Whether you decide to restore or replace, the choice is a personal one. Both have pros and cons and after determining the impact of those variables, you should feel confident that whichever way you choose, you will be happy with the outcome. Get in touch with an AWD – Authentic Window Design expert today to understand your replacement options.