Intgrity®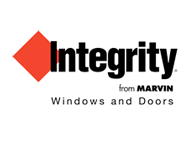 Integrity® from Marvin Fiberglass Windows – Built to Perform®
The pioneer in fiberglass window technology.
Marvin's 100 years of pioneering spirit drove them to create the first-to-market fiberglass window, and after more than 15 years, it's a proven success. Integrity® is made with Ultrex®, a patented pultruded fiberglass composite that outperforms vinyl and roll-form aluminum, measure after measure.
Integrity has a reputation of being hassle-free, with easy installation, low maintenance and lasting performance and beauty. A full range of products is offered in 2 series: Wood Ultrex and All-Ultrex, plus IMPACT coastal products.
Another benefit of this advanced technology is superior energy efficiency – the kind that shows in reduced energy bills long-term. All Integrity products meet ENERGY STAR® guidelines, the strict standards of the U.S. Environmental Protection Agency and the U.S. Department of Energy.
NEW Ultrex Exterior Trim Solutions: Built to Perform! The newest product from Integrity Windows and Doors is Integrity's Ultrex Exterior Trim Solutions. These solutions are the toughest exterior trim solutions and offer simple installation for both windows and doors. The Solutions are available in all six of Integrity's exterior color options and is the perfect way to complement any window or door project.