Infinity®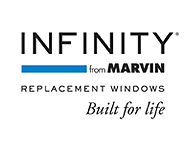 Infinity® The replacement window designed to replicate the look of traditional wood with low-maintenance performance.
Made in America and made with the advanced technology of Ultrex® fiberglass, and is backed by a Lifetime Warranty.
Sold complete with professional installation, it's designed to give you a no-hassle replacement experience from the moment you begin shopping until decades after they are installed.
Energy Efficiency Above ENERGY STAR Standards
All Infinity windows and doors exceed the performance requirements for ENERGY STAR® ratings in all climate regions as defined by the U.S. Department of Energy and the U.S. Environmental Protection Agency.
Easy To Live With
Because Infinity is made from Ultrex fiberglass, they're low maintenance, strong-as-steel tough, and stay weathertight and beautiful – outlasting and outperforming all other window materials. After careful measuring, Infinity is made to your home's openings, allowing you to add the features and options that you prefer.
Beauty Is Built In
Infinity's styled to look like traditional wood windows, so they'll replace older windows seamlessly. They're available in a variety of exterior finishes with either an Ultrex interior or EverWood®, an exclusive wood grain interior option.
Installed for a Lifetime
AWD is the only window retailer in your area who backs their work with a Lifetime Installation Warranty.